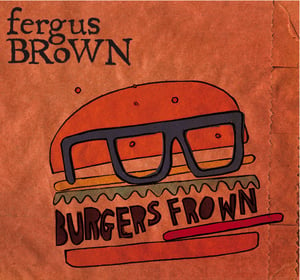 $

16.99 - On Sale
Fergus Brown is a singer and songwriter from Sydney, Australia.
Fergus is a winner of the John Lennon Songwriting Competition, the Qantas Spirit of Youth Awards, and the FBi Radio / Time Out Magazine SMAC Award for Song of the Year.
He has performed at the Laneway and Homebake Festivals, and with Martha Wainwright, Jens Lekman, Sally Seltmann, Josh Pyke, Sarah Blasko, Holly Throsby, Cloud Control, Jonathan Boulet, The Jezabels, Deep Sea Arcade, Jack Ladder, Lior, Dappled Cities and more.
Fergus' compositions have featured in 'Tender', a Patrick White Award-winning production at The Belvoir Theatre, and in 'The Starter Wife', an Emmy-award winning series screened on US NBC Television.
Fergus Brown's acclaimed debut album 'Burgers Frown' is available now.
---
"Very satisfying pop music. Smart music, with heart." - Bernard Zuel, The Sydney Morning Herald
"Couldn't be any cooler. An endearing blend of wit and sincerity." - Drum Media
"Really wonderful." - Richard Kingsmill, Triple J
"Fergus is a pop volcano. Bloody awesome."
- Vijay Khurana, Triple J
"'Burgers Frown' has got to be one of the best Australian albums of the year."
- Sounds They Left Behind